Skyline Madrid
Foto skyline de Madrid capital, con su temperatura (actualizado cada 5 minutos):

Photo of Madrid city skyline, with its temperature (updated both every 5 minutes):

Foto panoramica de Madrid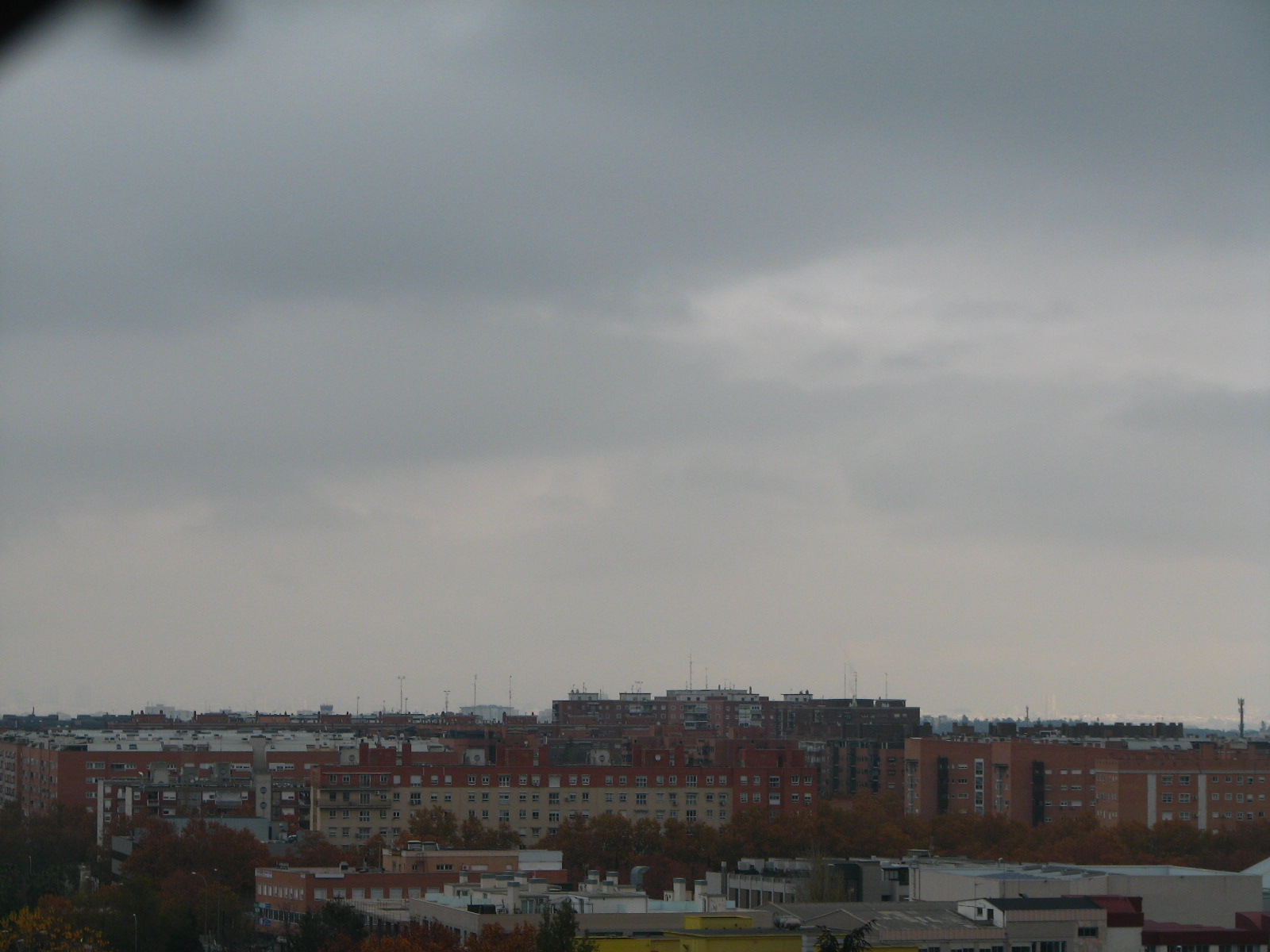 Explicación de la foto de parte del skyline de Madrid, vista: suroeste de Madrid, que puede verse actualizada cada 5 minutos a una menor resolucion en la web meteo alcorcon.
Explanation of the picture of the skyline of Madrid view: southwest of Madrid, can be updated every 5 minutes to a lower resolution web meteo alcorcon.

A la izquierda de esta foto quedarían las cuatro torres de la antigua cuidad deportiva del real Madrid, esto es lo que se vería si se ampliase la foto ( debido a la perspectiva solo se ven 3 torres ademas tapado por edificio colindante) así quedaría la foto:
To the left of this photo would be the four towers of the ancient city of Real Madrid sports, this is what you would see if you expand the picture (because of the prospect are only 3 towers, plus hidden by adjacent building) and would be the photo: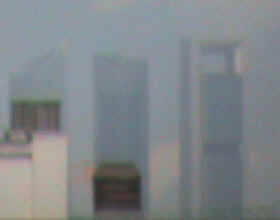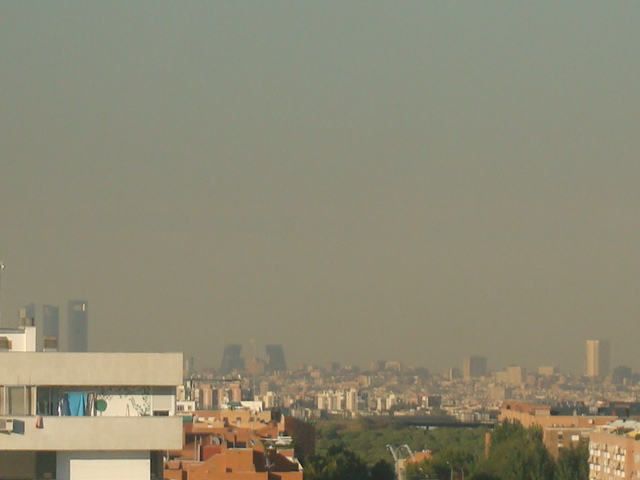 La torre de la derecha es la de repsol y tiene una máxima altura de 250 metros en una de ellas. Mas a la derecha y mas abajo nos quedaría el faro de moncloa con 90 metros.
The tower on the right is the repsol and has a maximum height of 250 meters in one. Further to the right and below us would moncloa lighthouse 90 meters.
Lo primero que se ve en esta foto del skyline de Madrid son las conocidas como torres kio: 114 metros de altura, los nombres de las torres son puerta de europa, y se encuentra en el top 8 y 9 de altura de Madrid, para mas información de estas torres: aquí.
The first thing you see in this picture of the skyline of Madrid are called kio towers: 114 meters high, the names of the Puerta de Europa towers are, and is in the top 8 and 9 height of Madrid, for more Information from these towers: here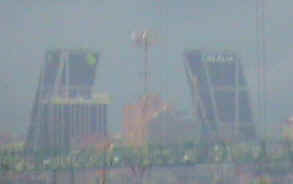 En la torre de la izquierda delante de ella se puede ver un edificio plaza castilla nº 3, con un altura de 76 metros se encuentra en el top 29 de altura de Madrid.
In the left tower in front of it you can see a building plaza castilla No 3, with a height of 76 meters is in the top 29 high of Madrid.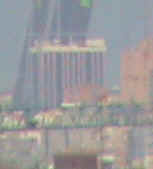 En la torre de la izquierda se puede ver el obelisco de calatrava con 90 metros, situada en el centro de la plaza de castilla.
In the tower on the left you can see the obelisk calatrava with 90 meters, located in the center the Castilla´s square.

Entremedias de las torres kio se encuentra el edificio torre capitan haya con 73 metros de altura se encuentra en el top 32.
In between of the Kio Towers building is the tower captain has been with 73 meters high is in the top 32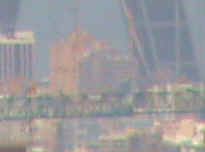 Por tanto tenemos la zona de la derecha de la foto que ampliada quedaría de la siguiente manera:
Thus we have the right area of the photo that would be expanded as follows:

En la foto de arriba podemos apreciar edificios altos a la derecha de la foto pero ninguno de ellos entraría en el top 50 de las alturas de Madrid.
In the photo above we can see tall buildings to the right of the picture but none of them would enter the top 50 of the height of Madrid.
Mas a la derecha tenemos el ministerio de economía con 23 plantas y 100 metros en el top 13 de las alturas de Madrid.
But the right is the ministry of finance has 23 floors and 100 meters in the top 13 of the height of Madrid.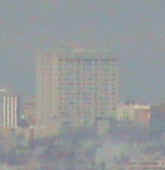 En esta foto puede verse la torre de la calle general peron nº32, con sus 25 plantas y 86 metros de altura entraría en el numero 20 de los edificios mas altos de Madrid.
In this photo you can see the tower street general peron nº 32, with its 25 floors and 86 meters high would enter at top 20 of the tallest buildings in Madrid.

Como pasa en la anterior panorámica, en esta zona hay edificios altos que destacarían como edificios altos de Madrid, pero sin poder definir ni altura ni ubicación.
As happens in the previous overview of this area would emphasize there are tall buildings as tall buildings in Madrid, but unable to define or height or location.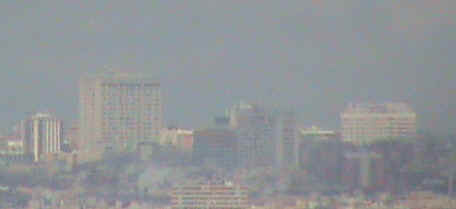 Llegamos a una torre emblemática la blanca del centro es la torre picasso 157 metros (mas info) entra en el top 5 de altura, detrás de esta y a la izquierda aparece débilmente a la vista la torre europa con 121 metros de altura (mas info) quedando en el puesto 7 de las alturas.
We reached a landmark white tower in the center is the Picasso Tower 157 meters (more info) enters the top 5 in height, and behind the left is weak in view europe tower with 121 meters (more info) was ranked 7 heights.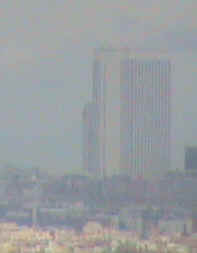 Mas a la derecha y siguiendo el complejo azca la torre mahou 85metros (mas info) que dando en el puesto 23 de las alturas.
Further to the right and following the tower complex mahou Azca 85metros (more info) that hitting the post 23 of the heights.

A lo largo del paseo de la castellana seguimos observando mas edificios emblemáticos : vemos en construcción el nuevo edificio del corte ingles, el antiguo windsor que tendrá 107 metros de altura. Se quedaría en su momento en el puesto 13 cuando este terminado el edificio.
Along the Paseo de la Castellana we continue to see more landmark buildings: we see the new building under construction in the English court, the former Windsor to be 107 meters tall. He would stay at the time in the No. 13 when it finished the building.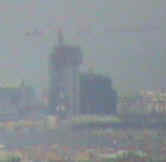 En esta foto la torre bbva con 108 metros de altura (mas info), quedándose en el puesto 12 de las alturas.
In this photo the tower bbva with 108 meters (more info), was ranked 12 of the heights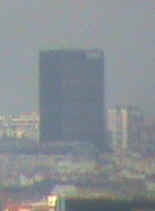 Igual que las panorámicas anteriores por zonas, se pueden observar también varios edificios altos pero ninguno de ellos entraría en el top 50 de los edificios mas alto de Madrid.
Like the previous panoramic zones, you can see also several tall buildings but none of them would enter the top 50 tallest buildings in Madrid.

A destacar por ultimo de esta foto el edificio torre Madrid con sus 142 metros de altura (mas info) puesto 6.
A highlight of this picture finally the Madrid tower building with its 142 meters (more info) top 6.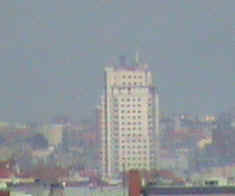 Al lado de la torre Madrid y en la misma plaza de España, quedaría el edificio España con 108 metros estaría en el puesto top 12.
Beside the tower Madrid and in the Plaza of Spain, Tower España with 108 meters in the top 12.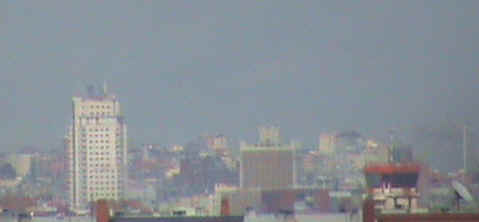 Por ultimo en la foto de arriba a la derecha quedaria la nueva torre de cuatro vientos (aerodromo de madrid), que no llegaria ni a 50 metros de altura.
Finally in the photo above to the right would be the new tower of four winds (airfield madrid), which would arrive or 50 meters high.
En la foto de abajo es casi inapreciable el hospital militar gomez ulla, pero con sus 73 metros y en top 36 hemos querido comprobar que se ve su techo.
In the photo below is almost negligible Military Hospital Gomez Ulla, but with 73 meters and top 36 we wanted to verify that your roof is.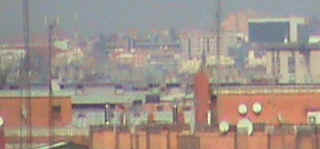 Mas a la derecha completaría el mapa nuestro skyline la torre de valencia con 95 metros de altura, en el puesto numero 15.
Further to the right complement our skyline map valencia tower 95 meters high, at number 15.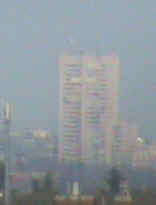 Mas a la derecha torrespaña (torre de comunicaciones) conocida por muchos madrileños como el piruli, con 220 metros de altura y a su lado y terminada en pico la torre retiro con 80 metros se queda en el puesto 24.
Further to the right Torrespaña (communications tower) known to many as the Piruli, with 220 meters high and next and finished in peak withdrawal tower with 80 meters left in 24th place.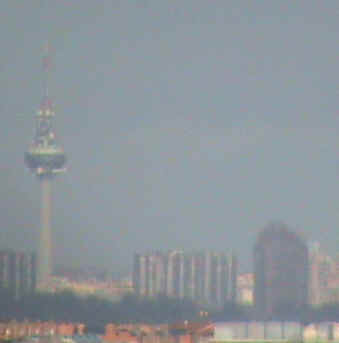 Por ultimo el edifico del pau de vallecas , recientemente construido y visible desde numerosas zonas de Madrid, con 73 metros y 22 plantas.
Finally the building of the pau de vallecas, recently built and visible from many parts of Madrid, with 73 meters and 22 floors.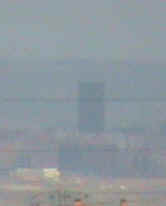 Así queda el top 20 de las alturas en Madrid ( no se incluye torrespaña, la altura de este edificio quedaría en la punta de su antena en 220 metros):
So is the top 20 of the heights in Madrid (not included Torrespaña, the height of this building would be on the tip of its antenna at 220 meters):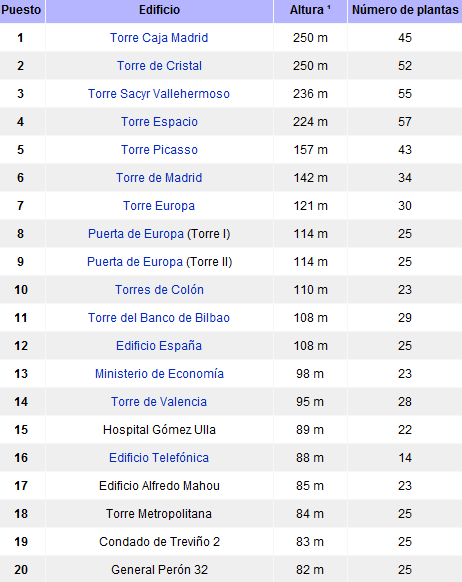 De las cuales reconocidas, tenemos en la foto que actualizamos cada 5 minutos las números 5, 6, 7, 8, 9, 11, 12,13,15, 17 y 20.
Of which recognized the photo that we update every 5 minutes, 5, 6, 7, 8, 9, 11,12, 13,15, 17 and 20.
Damos las gracias a wikipedia por la info que hemos sacada de ella, al foro de urbanitas, y al traductor google por la traduccion que pudiera haber hecho al ingles.
Actualizado a 2010.
IR A PAGINA METEO DE ALCORCON (informacion meteo de todo tipo)